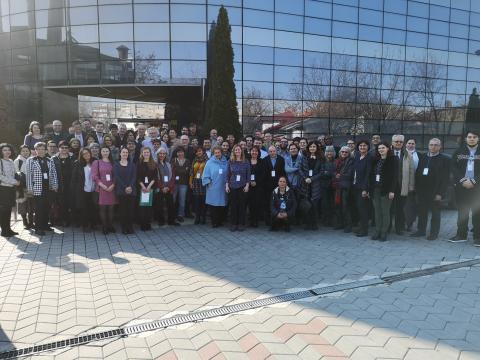 At the beginning of each year, the ICP Vegetation Task Force Meeting is held. These meetings are an opportunity for participants of the ICP Vegetation to come together and share new results and to hear an overview of the activities and achievements made in the past year.
This year, the 32nd Task Force Meeting was held from 18 – 21st February 2019, and was hosted by Valahia University of Targoviste, Romania. The meeting was attended by 79 participants from 31 countries, including representatives from all over Europe, Kazakhstan, Tajikistan, Ukraine, the Russian Federation, Syria, China (including Hong Kong) and Cameroon.
The plenary session of the meeting began with welcome addresses from the Dean of the Faculty of Sciences and Arts at Valahia University of Targoviste (Cristinel Mortici), and a representative of the Dambovita County Environmental Protection Agency in Romania (Dorela Mirica). Harry Harmens (UK), Chair of the ICP Vegetation then gave an overview of ICP Vegetation activities in 2018. Marina Frontasyeva (Russian Federation), Chair of the Moss Survey Coordination Centre gave an update on the outcome of the 2015/16 moss survey, which will be published later this year. Lastly, Klaudia Borowiak (Poland) introduced some students from Poznan University of Life Sciences who are keen to develop biomonitoring programmes for ozone/heavy metals in their home countries (including Cameroon, Kosovo, Syria and Ukraine).
Next, there was a poster session (displaying over 30 posters), with a selection of posters on both ozone and moss survey topics, for example, ozone: investigating the impacts of ozone on ecosystem services of grasslands (F. Hayes, UK), ozone impacts on insects (V. Araminiene, Lithuania) and ozone fluxes in Mediterranean vegetation (V. Calatayud, Spain); and mosses: biomonitoring of toxic metal air pollution using mosses in Albania (F. Qarri, Albania), heavy metal accumulation in Taraxacum officinale L. in urban areas (A. Budka, Poland) and missing values in biomonitoring data (K. Štrbová, Czech Republic).